Social media,I know you know what that means. Facebook,Twitter,Instagram...
Yes.If that is what you know as social media, you are right.
This has become the next big thing for all internet marketers who knows the massive benefits of these Super Five.
Better still,I will call them Online Fantastic Five.
If you are not including Facebook,Instagram,Twitter,Pinterest and Linkedin in your marketing effort,then you are leaving a lot of traffic on the table.
Here the following statistics about these Big Five social networking sites will startle you: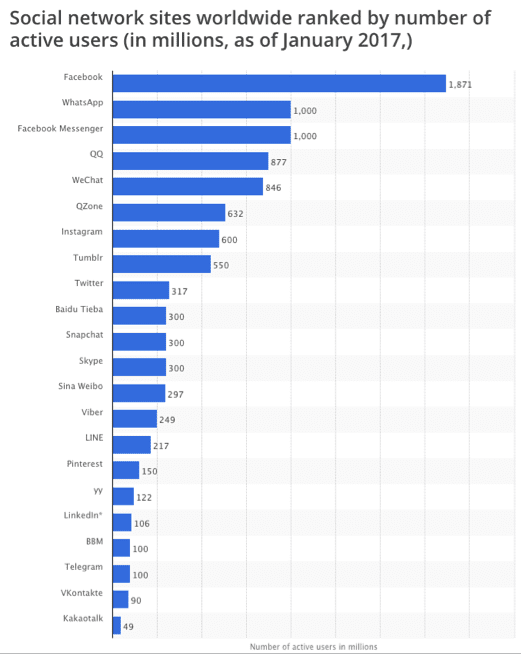 In this data, you see clearly that Facebook ranked as first with the highest number of active users.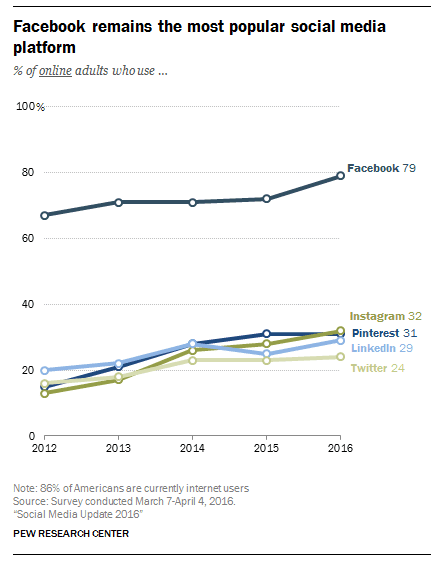 In terms of popularity,research from PEW shows us that Facebook ranked as the number 1 while others follow.
It is an indisputable fact that Facebook ranked above all other social media sites online.However, you must realize that these Super Five social media sites are where people go to everyday to socialize.
Any intelligent blogger or marketer should take his products where people converge and interact.The momentum is now changing as regards where to get traffic even targeted traffic online.
The usual traditional Google is no longer the only means of getting traffic anymore.This is not to say you would not do your proper SEO for your blog or websites, but you should not just focus on Google search engine ranking only.
In a recent chart by Pew research center,it is a fact that Facebook commands active daily users.
"76% of users log in daily, whilst 51% do for Instagram (owned by Facebook). Twitter manages just 42% of users login in daily, only just over half the Facebook figure."
So,Facebook dominates social networking and this points to one thing that you should learn how to maximize FACEBOOK for constant targeted traffic.
3 Strategies to Maximizing Facebook for Targeted Traffic
Strategy # 1 Be Active on Facebook
The first thing is that you join Facebook.That is, register and create your profile on Facebook.
I want to believe that you have already done that.If not do it after reading this post.
Strategy # 2.Update Your Profile on Facebook
You must provide honest information about who you are on your Facebook account.Use real name,address,website,job location and schools attended.
You should use a real photo.Don't use another person's photo.Be real
Strategy # 3.Create a Fan Page
Fan page is a way you build your business brand.You can make a unique page for Internet Marketing Club if you are in the internet marketing business.See that you give it a name related to your niche.
Use bold and clear images for your fan page cover and identity.
Regularly update your fan page with images that attract your fans.Post memes,infographics and videos that solve your fans problems.
Strategy # 4.Join Facebook Groups Related to Your Niche
Another way to grow your brand on your Facebook fan page is to join related groups to your niche.
If you are in Internet Marketing,then you must join Internet marketing Facebook groups,Online marketing groups,Home Based Business groups and the likes.
Be active on those Facebook groups regularly.Post,reacts to other people's post and comment.
Strategy # 5 Be Engaged on Facebook Owned Instagram
You must also use Instagram,one of Facebook acquisition for your online business.
Just as shown in the chart above,Instagram comes after Facebook in active daily users.So, do not leave off Instagram.
Instagram is about two media:Images and Videos.
So,post informative images and videos on your Instagram account regularly.
Use freebies or giveaways to draw targeted traffic to your page on Instagram.This would gradually increase your followers.
Conclusion.
There is no gainsaying that social media has come to stay.Don't sit on the fence at all.You must start utilizing these social networking sites especially Facebook.
If you enjoy this post,do me a favor. You go ahead and share this post right now.